Live Aware, Not in Fear:
The 411 After 9-11

By Donna Koren Wells, M.Ed and Bruce C. Morris, JD
The world changed on September 11, 2001 and as frightening as it may be for adults, for teens feelings of fear and hopelessness can be overwhelming. This timely new book offers a positive approach to navigating uncharted waters -- first the myths...then the facts!

It's an engaging guide filled with question-and-answer sections, space to journal their feelings and reactions, and suggestions on how today's teens can help themselves, their families and their communities.

From "The Home of the Brave" -- what terrorists target and why -- to "The Land of the Free" -- school and community -- ...from "Worried Sick" -- the truth about bioterrorism -- to "Dollars and Sense" -- potential family economic impacts -- to "Instant Mess[age]" -- communications, entertainment, media in our new age -- this book's chapters provide a handbook that teens will want to keep with them at all times.


Description from Publisher

Teens are understandably frightened by the events of September 11. They are confused about what the attacks mean to public security and about how to protect themselves. In plain language, the authors allay fears and empower readers with information that explains how the world has changed, and what specific actions can be taken to safeguard themselves, their families, and their communities. Information about the social, financial, and political repercussions of the attacks is reassuring. Suggestions about devising escape routes, packing survival kits, and more are well intended, though occasionally histrionic. In general, however, this book, which is divided into informative text and well-selected question and answers (there are also several fill-in-the-blank questionnaires), fulfills its purpose: it lets teens know that adults are aware of their fears and eager to help them return to a more balanced view of our altered world. For middle-grade readers, see Gellman and Hartman's Bad Stuff in the News.


Description from Booklist

Bad Stuff in the News by Rabbi Marc Gellman and Monsignor Thomas Hartman
Gellman, a rabbi, and Hartman, a priest, known as the God Squad, have written several books about big issues, including How Do You Spell God?. Here, the events of September 11, as well as other tragedies that pervade the news, take center stage. The authors' folksy writing style is sometimes annoying, but it brings young people close to the calamities. The information they give is good, if sometimes limited by circumstances. An introduction about God's place in the midst of bad things leads off. Then each chapter deals with one of those "bad things": terrorism, school shootings, environmental issues, plane and car crashes, abuse, drug addiction, and epidemics, among others. Some general information heads each chapter, followed by a page or two of "stuff to understand" ("You can usually trust the things you ride or fly or float in"), and several paragraphs about "stuff you can fix" (make sure you're with safe drivers). It's a balancing act between honesty and reassurance, and the authors do pretty well. Sometimes, however, there's not much kids can really "fix." Terrorism, the authors note, is something for adults to deal with, though children can try to rid themselves of the fear. Simple yet attractive graphics add appeal to a book that parents and teachers can use as a starting point for discussion. For older readers, see Wells and Morris' Live Aware


Description from Booklist

How can we cope in a world filled with pollution, poverty, and violence? In our media-centric society, this is a question that kids come face-to-face with at increasingly young ages. And ever since the September 11, 2001 terrorist attacks on America, our personal safety has never felt more in danger.

With their unique combination of sensitivity, insight, and humor drawn from their years of counseling experience as clerics, nationally known commentators Rabbi Marc Gellman and Monsignor Thomas Hartman address such front-page tragedies as hate crimes, terrorism, school and sports violence, and substance abuse. After exploring some of the complex factors that lead such tragedies to happen, each chapter addresses what small but important steps might be taken in order to prevent them from happening again. And although some "bad stuff" is unavoidable, they invite readers to discover how simple acts of comfort can make a big difference.

This essential handbook for today's modern youth will help kids and parents deal with confusing, troubling, or scary events, while showing them how to take part in repairing the broken world around them.


Description from Publisher

9-11: September 11th, 2001

(Volume 1)

By Will Eisner, P. Craig Russell, John McCrae, Eric Powell, Jon J. Muth, David Chelsea, Eric Drooker, Kevin Nowlan, Paul Sloboda, Paul Chadwick, Randy Stradley, and Dave Gibbons

(DC Comics)
UNITED WE DRAW

An unprecedented coalition joins to reflect on September 11

The greatest writers and artists in comics join with an unprecedented coalition of publishers to create two volumes reflecting on a tragedy that changed the world. Offered separately, but released, marketed and publicized together, each volume consists of dozens of profoundly moving, contemplative stories about the events of September 11 and their aftermath: Volume 1 from Chaos! Comics, Dark Horse Comics, and Image Comics - with assistance from Oni Press, Top Shelf Productions, and others; Volume 2 from DC Comics, including WildStorm Productions, Vertigo, Homage Comics, Cliffhanger, and Milestone Media.

Volume 1 from Chaos! Comics/Dark Horse Comics/Image Comics, with assistance from Oni Press, Top Shelf, and others. A cover by The New Yorker's Eric Drooker tops a collection of personal and profoundly moving stories from some of the greatest writers and artists in comics, including Frank Miller's reflections on the power of faith; Jim Mahfood's personal view of the Arab-American experience before and after September 11; a story by Alan Moore and Melinda Gebbie; and Bryan Talbot's reflection on the meaning of entertainment in the days after the attacks.


Description from Publisher

It's hard to find a good comic anthology these days, let alone one which strays far from science fiction and fantasy and instead focuses on the mundane, the people, the common person's reaction to tragedy. Every kind of person was affected by September 11, and this book encompasses them all -- the law-abiding Arab citizen, the American travelling abroad, the desensitized, the firemen, those on the planes and those lucky enough to be plucked from the Trade Center rubble.

The stories are varied, the images in colour, black and white and grayscale, and each artist's style is distinct. You'll find cartoons, realistic drawings, and some in between, all of which do more to reflect the true feeling of American, if not world unity, and September 11 better than any Dateline special could.

I, for one, can't wait to read Volume Two.


Description from Amazon.com Customer Review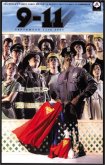 9-11: September 11th, 2001

(Volume 2)

By Neil Gaiman, Stan Lee, Jill Thompson, Kieron Dwyer, Steven T. Seagle, Duncan Rouleau, and Aaron Sowd

(DC Comics)
UNITED WE DRAW

An unprecedented coalition joins to reflect on September 11

The greatest writers and artists in comics join with an unprecedented coalition of publishers to create two volumes reflecting on a tragedy that changed the world. Offered separately, but released, marketed and publicized together, each volume consists of dozens of profoundly moving, contemplative stories about the events of September 11 and their aftermath: Volume 1 from Chaos! Comics, Dark Horse Comics, and Image Comics - with assistance from Oni Press, Top Shelf Productions, and others; Volume 2 from DC Comics, including WildStorm Productions, Vertigo, Homage Comics, Cliffhanger, and Milestone Media.

DC Comics/WildStorm Productions/MAD Magazine. A painted cover by Alex Ross tops a collection of personal and profoundly moving stories from some of the greatest writers and artists in comics. Featuring the first story added to the Sandman opus in two years with a Death and Destruction story by Neil Gaiman and Chris Bachalo; a new Krypto story by Jeph Loeb, Carlos Pacheco and Jesús Mariño; a story of London during the Blitz by noted science-fiction/fantasy author Michael Moorcock and artists Walter Simonson and Bob Wiacek; plus the reunion of Stan Lee and Marie Severin.


Description from Publisher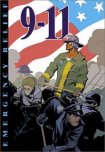 9-11: Emergency Relief

By Jeff Mason, Will Eisner, Harvey Pekar, Ted Rall, Jeff Smith, James Kochalka, Josh Neufeld, Nick Bertozzi, Dean Haspiel, Joyce Brabner, Jessica Abel, Gregory Benton, and Tony Millionaire

(Alternative Comics)
The terrorist attacks in New York, Washington DC, and Pennsylvania on September 11, 2001 touched people worldwide, and cartoonists have turned to art to express their grief and support. 9-11: Emergency Relief is a comic book project to benefit the American Red Cross featuring some of the comic world's leading talents. From legendary creators such as Will Eisner and Harvey Pekar to new talents on the cutting edge of the comics medium such as James Kochalka and cover artist Frank Cho, over 80 cartoonists from all areas of the cartooning world have joined together in this community effort. Released January 2002 from Alternative Comics, 9-11: Emergency Relief is a collection of these cartoonists' personal non-fiction accounts of their experiences related to the tragedy.


Description from Publisher


911: The Book of Help

Edited by Michael Cart, Marianne Carus, and Marc Aronson
An impressive cast of more than 20 children's book authors donated work to this highly personal, often affecting roundup of essays, short stories and poems inspired by the events of September 11th. Organized into four sections from "Healing" to "Reacting and Recovering," the pieces range from related events triggered by the New York tragedy to writers' evocations of the horrific images they viewed that morning. Arnold Adoff draws a correlation to King's assassination in Memphis ("Souls rise/ without reason long before their reasonable times"); David Paterson (son of fellow contributor Katherine Paterson) recounts perhaps the most immediate connection to the terrorist attacks as he relates his experience at Ground Zero on September 13 with shovel in hand to help clear the rubble. In a candid entry, Walter Dean Myers recalls watching a Middle Eastern man in London cheering the loss of American lives: "He is my enemy because those who think like he does have brought violence and hatred to my door, and to the doors of those I love." Perhaps Susan Cooper (who heard the roar of a fighter plane in New York City on 9/11 and recalled the bombs that fell on her London neighborhood during WWII) best sums up the collection's underlying message: "But the opposite of terror is hope, and... hope can drive out fear." Other contributors to this strong collection include Avi, Sharon Creech, Nikki Giovanni, Margaret Mahy and Naomi Shihab Nye; Chris Raschka provides an evocative cover and interior pen-and-inks for each section opener.


Description from Publishers Weekly

A global viewpoint on the September 11 attacks is presented through 25 essays, short stories, and poems divided into four sections: "Healing," "Searching for History," "Asking Why? Why? Why?" and "Reacting and Recovering." Although every entry does not deal with the theme of rebuilding, Katherine Paterson's introductory essay sets a tone of hope. Paterson's son David gives a vivid, textured picture of what it was like to work at Ground Zero less than 48 hours after the attack. Russell Freedman pays tribute to New Yorkers' sense of community and appreciation for the rescue workers who gave their lives. While many of the short pieces offer a sense of hope, much of the poetry will make readers cry. The horror, anger, and pain are given voice, too. Walter Dean Myers's essay is about just that-the anger and frustration engendered by our vulnerability and inability to elicit sympathy from cultures that harbor enmity for America. A call for understanding is evidenced in several pieces. Marion Dane Bauer reminds readers to beware of fear and know that we can change the world one kindness at a time. James Cross Giblin uses Pearl Harbor and the Cuban Missile Crisis to assure readers that, as a nation, we will survive. Naomi Shihab Nye, an Arab-American, says we make sense out of life through words. This volume is a worthy attempt to do so.


Description from School Library Journal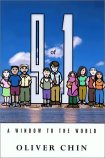 9 Of 1: A Window to the World

By Oliver Chin
In this graphic novel that helps teens make sense of world events, nine fictional high school students reflect the variety of feelings about the events of September 11. Set during the confusion following the terrorist attacks, the story begins when a history teacher assigns his students to write a report on the incident based on an interview with someone who has a different viewpoint from their own. As they fan out into the community and encounter people of diverse backgrounds, opinions, and prejudices, the teens quickly realize that the story cannot be reduced to simple themes like good versus evil or us versus them.


Description from Publisher


The Evolution of Merucia

By Peg O'Connor Burt
The Evolution of Merucia is a fantastic historical fiction work, written in "Suess-ian" rhyming verse. It tells of the days when Merucia was first discovered, then takes the reader through the terrorist attacks and War on Terrorism of the present day, and ends with a glimpse into the possible, (hopefully not probable), future of Merucia. Could Merucia simply be a thinly-disguised America? The Evolution of Merucia is a September 11th book for children 9-12 years, although adults will enjoy it as well. It is intentionally transparent, so kids may learn about how we ever arrived at the events of September 11th and the War on Terrorism. It is presented in a way that will grasp and grip the reader's attention. Lastly, it reminds our children that the future of our country is in their hands...


Description from Publisher

This is the story
Of a land called Merucia,
(A country that's on
The west side of Earthucia).

It's how they got to Point "A",
From Point "A" to Point "B",
And if they're not careful,
They'll arrive at Point "C".

As you might guess,
It's written in rhyme.
It's NEW, yet FAMILIAR,
At the same time.

It's the story of Merucian
Present, future, and past,
And how THEY MUST CHANGE FOREVER
For their country to last.

Could Merucia simply be a thinly-disguised AMERICA?


Description from Publisher


Messages to Ground Zero: Children Respond to September 11, 2001

By Shelley Harwayne (Compiler) and The New York City Board of Education
This is a collection of letters, poetry, and art by children in response to September 11th. All were sent to other children reflecting innocent support, outreach, and caring. This book is an archive of what children were thinking and feeling through their honest and heartful messages.


Description from Publisher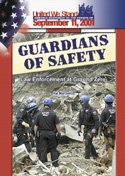 Guardians of Safety: Law Enforcement at Ground Zero

By Hal Marcovitz
A New York police officer was one of the first to report the tragic events of September 11, 2001. Rushing to the scene, officers were instrumental in saving thousands of lives, while sadly losing members of their own ranks. Law enforcement officials also played key roles in determining that the events were, in fact, terrorist attacks by Al-Qaeda, a terrorist network headed by Osama bin Laden. Learn more about the heroic efforts of law enforcement on September 11th and throughout our country's history.


Description from Publisher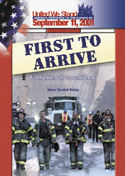 First to Arrive: Firefighters at Ground Zero

By Alison Turnbull Kelley
When terrorists struck the Twin Towers and other locations on September 11, 2001, firefighters were the first among the brave souls who arrived to help the victims. Of all the heroes brought to light on that terrible day, firefighters were among the bravest. Learn more about their heroic efforts at Ground Zero, and the history of this proud profession.


Description from Publisher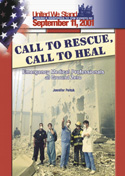 Call to Rescue, Call to Heal: Emergency Medical Professionals at Ground Zero

By Jennifer Peltak
The speed and skill of New York City emergency technicians (EMTs) and paramedics saved countless lives after the terrorist attacks on the United States on September 11, 2001. Unfortunately, 11 medical professionals lost their lives in the line of duty that day. EMTs and paramedics face many challenges in the field, yet have continued to answer the call at national emergencies such as the 9/11 attacks, Columbine High School, and the Oklahoma City bombing.


Description from Publisher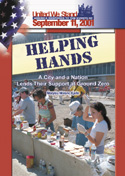 Helping Hands: America Responds to the Events of September 11, 2001

By Marylou Morano Kjelle
September 11, 2001, saw more American lives lost than any other single day in U.S. history, including D-day and the attack on Pearl Harbor. Instead of crippling the nation, the attacks proved the spirit of American's to be stronger than ever. People from all across America came together in support of the victims, their families, and the nation as a whole. Read about how agencies, organizations, and individuals came together in this time of tragedy.


Description from Publisher

We the People: The U.S. Government's United Response Against Terror

By Angela Valdez
The U.S. government's response to the terrorist attacks of September 11, 2001, began taking shape almost immediately after the tragic events took place. Facing the greatest challenge of his presidency, George W. Bush sought to comfort a grieving nation, confront the perpetrators, and garner international support for a war on terror. Learn more about how the government responds to threats to national security, and the role played by the Federal Bureau of Investigation (FBI), Central Intelligence Agency (CIA), Federal Emergency Management Administration (FEMA), and the Centers for Disease Control (CDC).


Description from Publisher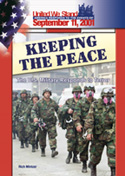 Keeping the Peace: The US Military Responds to Terror

By Richard Mintzer
The U.S. military sprang into action after the attacks of September 11, 2001, with the goal of dismantling al-Qaeda and ultimately capturing Osama bin Laden, the leader of the terrorist organization. Though the Taliban government of Afghanistan, which supported terrorists, has been removed and al-Qaeda's infrastructure severely damaged, the war on terrorism continues. Learn more about the U.S. military's response to terrorism.


Description from Publisher


Heroes of the Day

By Nancy Louis
The tragedy on September 11, 2001, has become a difficult but necessary topic of discussion in schools all across North America. The attack on America is among the most memorable and tragic in modern history.

This is one title in a 12-book series that covers the full range of topics and issues needed for meaningful discussion, clear understanding, and hope for the future. It provides accurage, age-appropriate information, puts events in proper perspective, and offers reassurance that democracies are doing what is necessary to make the world safe.

Heroes of the Day discusses emergency telephone operators, police officers, firefighters, trained dogs, those who fought the hijackers on Flight 93, and individual citizens who helped in the aftermath of the terrorist attacks on the World Trade Center and Pentagon on September 11, 2001.


Description from Publisher

There are hundreds of stories about heroic actions on September 11th and Nancy Louis tells some of those stories in "Heroes of the Day," a volume in the War on Terrorism series. Probably you have heard of some of these stories, such as the ones about Mark Bingham, Tom Burnett, Todd Beamer and the passengers on Flight 93 who fought back against the terrorists on the fourth plane, but certainly some of these will be new you. Louis starts by establishing the All-Out Emergency of September 11th and devotes chapters to the New York Police Department, the Firefighters, Rescue Squads and Emergency Personnel, and people in the World Trade Center towers who helped others get out. Other chapters are devoted to the efforts of rescue dogs, what happened at the Pentagon, and those who fought back on Flight 93. The final chapter talks about honoring the heroes and explains about the Defense of Freedom medal that was created in the wake of the terrorist attack. Because this is a relatively small book, 48-pages long, illustrated with dozens of color photographs, it can only scratch the surface of what happened that day and give young readers but a small sampling of the stories that could be told. Certainly there was enough material on this topic for more than one book.


Description from Amazon.com Customer Review


Ground Zero

By Nancy Louis
The tragedy on September 11, 2001, has become a difficult but necessary topic of discussion in schools all across North America. The attack on America is among the most memorable and tragic in modern history.

This is one title in a 12-book series that covers the full range of topics and issues needed for meaningful discussion, clear understanding, and hope for the future. It provides accurage, age-appropriate information, puts events in proper perspective, and offers reassurance that democracies are doing what is necessary to make the world safe.

Ground Zero discusses search, recovery, and clean-up.


Description from Publisher

This volume in the War on Terrorism series focuses primarily on what happened at "Ground Zero" after the World Trade Center towers collapsed on September 11, 2001. Nancy Louis explains that "ground zero" is "often defined as the center of a rapid, intense, or violent activity or change," although I am sure most of us think of it in terms of the point at which an atomic bomb detonates and sends out waves of destruction. Certainly both definitions apply.

This is one of the more informative books in this series, mainly because reporters and television cameras were kept out of the area. Consequently, in the week after the attack we had much more information about the victims in the towers, from interviews with friends and families desperately waiting for word, than we did about what the rescue workers were doing at Ground Zero. Louis covers the attack and the collapse of the towers, as well as what happened afterwards in terms of search & recovery efforts and removing the rubble, as well as the visits by President Bush and other leaders who came to visit the site. "Ground Zero" includes as much new information as it did details with which I was already familiar. The back of this book includes a page of facts about the World Trade Center.

"Ground Zero" is illustrated with mostly full-page color photographs. While a couple show the World Trade Center buildings being hit or collapsing, most of these are photographs of rescue efforts amidst the massive amount of rubble. There is also a map of the area that indicates the status of dozens of buildings in and around Ground Zero. Other books in the War on Terrorism series includes "September 11th: The Day That Changed America," "Heroes of the Day," among others. Finally, I must note that all of the books in this series use the same font style, where the upper-case letters are only slightly larger than the upper-case, that I found a bit bothersome after a while.


Description from Amazon.com Customer Review


United We Stand

By Nancy Louis
The tragedy on September 11, 2001, has become a difficult but necessary topic of discussion in schools all across North America. The attack on America is among the most memorable and tragic in modern history.

This is one title in a 12-book series that covers the full range of topics and issues needed for meaningful discussion, clear understanding, and hope for the future. It provides accurage, age-appropriate information, puts events in proper perspective, and offers reassurance that democracies are doing what is necessary to make the world safe.

United We Stand describes many of the things corporations and individuals did to help, both in the United States and in other countries, after the terrorist attacks of September 11, such as donating money, blood, food, and supplies, creating memorials, and volunteering in various capacities.


Description from Publisher

America's Leaders

By Jill C. Wheeler
The tragedy on September 11, 2001, has become a difficult but necessary topic of discussion in schools all across North America. The attack on America is among the most memorable and tragic in modern history.

This is one title in a 12-book series that covers the full range of topics and issues needed for meaningful discussion, clear understanding, and hope for the future. It provides accurage, age-appropriate information, puts events in proper perspective, and offers reassurance that democracies are doing what is necessary to make the world safe.

America's Leaders discusses President Bush, Powell, Ashcroft, Giuliani, and others.

Description from Publisher


Attack on America: The Day the Twin Towers Collapsed (American Disasters)

By Mary Gow
September 11, 2001, was a day that changed the lives of all Americans. This title recounts the terrorist attacks that took place at the World Trade Center in New York City, at the Pentagon near Washington, D.C., and in rural western Pennsylvania that day. Please note that author royalties from the sales of this book will be donated to Mayor Rudolph Giuliani's Twin Towers Fund.


Description from Publisher


Terrorism in America

By Tricia Andryszewski
An account of the September 11 attacks in the United States, with a discussion of the war on terrorism, anthrax attacks, and new security measures put into place since that day.


Description from Publisher

This title in the Headliners series opens with a very brief prologue about the attacks on September 11, but then widens to an overview of terrorism in and against America. Sections about terrorism in the past refer to domestic groups--among them, the KKK, the Black Panthers, and the Weather Underground--and attacks on foreign soil against Americans, such as the Iran hostage crisis in 1979. The 1993 World Trade Center bombing gets its own small chapter, followed by a look at recent attacks on Americans overseas. Unfortunately, the coverage is too brief and sometimes misleadingly simplistic. Also, the large, slim, photo-filled format seems targeted to a much younger age than the text; advanced terminology (market-driven and rogue state, for example) isn't defined or explained. But with its broad focus, the book may be useful as a catalyst for research and discussion, helping to put September 11 into context. The final chapter raises provocative questions about fighting terrorism while maintaining civil rights in an open society. A chronology and a listing of further readings are appended.


Description from Booklist

What in the World Is Going On? Am I Safe: A Letter to American Kids

By Peg O'Connor Burt
So, you want to teach your child about the September 11th attacks and the War On Terrorism, in a factual and straight-forward, yet comforting and reassuring age-appropriate manner, but you're having trouble finding the words. What in the World is Going On? Am I Safe? (A Letter to American Kids) is the very book you've been waiting for.

Written as a letter to "The Kids of America," it addresses two key points: Just what happened September 11th, and the issue of feeling safe. Read through it once for yourself, then share it with your child. It may make you cry, but it will also make you smile.



Insightfully and patriotically illustrated by children, this book is loaded with factual and straightforward yet compassionate and reassuring information on our nation's tragedy. Written in the form of a letter addressed to the Kids of America, it comes complete with a note to parents and teachers on why it was written and should be used as a learning tool. Graced with a wonderful foreword by Lorraine D'Aniello, long-time kindergarten teacher.


Description from Publisher


Terrorism: Political Violence at Home and Abroad

By Ron Fridell
Terrorism has always been a problem in the world, but it really hit home in the United States on February 26, 1993, with the attack on the World Trade Center in New York City, and again on April 19, 1995, with the bombing of the Alfred P. Murrah Federal Building in Oklahoma City. In Terrorism: Political Violence at Home and Abroad, author Ron Fridell explains what terrorism is, what motivates terrorists, and how their actions affect politics worldwide. He discusses the history and possible future of terrorism in the United States and throughout the world.


Description from Publisher

In the wake of the attacks on September 11, 2001, it has become an obvious truth that terrorism is now a terrible fact of life. The bombings of the World Trade Center and the Pentagon and the abortive airliner crash in Pennsylvania are but the most recent in a long chain of terrorist assaults launched against innocent people across the globe. In this insightful book, readers will be confronted with the reality of global terrorism. The author traces the political, religious and psychological roots of terrorism. While most people look upon the actions of terrorists in horror, these appear reasonable to the fanatical participants in various extremist cells. Events such as the sarin nerve gas attack in Tokyo, the Oklahoma City bombing, and the 1993 unsuccessful attempt to topple the World Trade Center with a massive car bomb are discussed, along with other chilling incidents. Efforts on the part of various law enforcement agencies to prevent further assaults and apprehend actual and potential perpetrators are presented in one of the more intriguing portions of this well researched text. Terrorism, unfortunately, is a part of our lives. In order to cope with this harsh reality it is best to attempt to understand the motivations, actions and thoughts of terrorists. This book is a fine source for such information and will be a beneficial addition to a personal or public library. Part of the "Issues in Focus" series.


Description from Children's Literature


Cornerstones of Freedom: September 11, 2001

By Andrew Santella
Remember the day that changed our world forever with this book full of facts and pictures.


Description from Publisher


The Day That Was Different:
September 11, 2001:
When Terrorists Attacked America

By Carole Marsh
Timely, factual, sensitive information for children about the day terrorists attacked America. Reproducible Activities include:
The Day That Was Different: What Happened on September 11, 2001 and What It Means
Other Days That Were Different: Pearl Harbor, the Bombing of Ft. Sumter (start of Civil War), and the Challenger Explosion
The Government in Charge: What Happens When America Suffers an Attack?
Timeline of Significant Events (for students to add to over time)
The Geography of Terrorism (map activity of pertinent locations)
What is the World Trade Center?
What is the Pentagon? Why Did the Terrorists Pick on It?
What is Islam? Who Are Muslims?
What is Terrorism? Why Does It Exist? Is it New in History?
Land of the Free: How a Democratic Country is Different
Home of the Brave: They Came to Help-Firefighters, Police, the Military, Civilian Volunteers
I Want to Help!: What Kids, Families, and Schools Can Do to Help
Is this the "First War" of the 21st Century?
What Will America Do Next?
What Good Can Come From this Experience?
Tolerance and Your Role as a Student
Dear Diary: A Page to Record Your Feelings
Dear Friend: A Letter to Write
Pride and Patriotism
My Questions for Further Discussion
Description from Publisher


United We Stand: America's War Against Terrorism

By Carole Marsh
Timely, factual, sensitive information for children about America's response to terrorism. Reproducible Activities include:
What is War? Why Do We Fight Them?
A Brief History of Terrorism in the World
Why Do They Hate Us?
Afghans, Turbans, and Beards: Who is Who and How Do We Tell Them Apart?
Who is Isama Bin Laden?
Fighting War Today?
Electronic "Hot Pursuit": Computers and War
What's All This Talk About chemical and Germ Warfare?
Keeping a Cool Head: Separating Fact from Rumor and Guesses
What Should I Really Be Afraid Of?
Normalsville: When Will the End Be in Sight?
Why the World is Determined to Fight Terrorism
Turning Point: September 11, 2001
Resolve vs. Revenge
Seeking Justice
The Religion of Islam and the Muslims Who Practice It
Tolerance and Understanding
Diplomacy vs. War
Afghanistan and the Middle East
War Yesterday and Today
How Good Can Come From Bad
The Only Thing We Have to Fear...
Pride and Patriotism
Faith and Hope
Glossary
Further Resources, and more!
Description from Publisher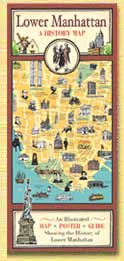 Lower Manhattan: A History Map

By Ephemera Press
Lower Manhattan: A History Map tells the story of New York City's oldest neighborhood, from the arrival of Giovanni da Verrazano in New York Harbor in 1524 through the destruction of the World Trade Center on September 11, 2001. With illustrations of landmark buildings, historic figures and major events by artist Tony Millionaire, the full-color map makes a beautiful poster worthy of framing. The back of the map contains the itinerary for a complete walking tour of the historic sites of Lower Manhattan. Designed for scholars, tourists, students, and city buffs, the map provides a perfect introduction to New York City and its history.

Lower Manhattan has known loss -- The Great Fire of 1835 almost obliterated the district. Ten years later, a second fire destroyed most of what survived or was rebuilt after the first inferno. In 2001, the neighborhood was jolted by the destruction of the World Trade Center. The events of 9/11/01 affected not just Lower Manhattan, but the whole United States, and much of the world. It is impossible to visit this area now without thinking of that tragic day. This combination map, walking-tour guide, and wall poster includes 9/11 as part of the history of Lower Manhattan.

This neighborhood has experienced lows, but it has also witnessed some of America's greatest moments: the Revolution, the creation of the Constitution, and the birth of the first modern democracy. Here monuments, museums, and historic buildings remind us of the freedom we enjoy, the wars we fought to defend our liberty, and our proud history as a refuge for the oppressed and downtrodden. In Lower Manhattan, one can marvel at the wonders of engineering and see the ongoing strength of American capitalism. This is New York's oldest neighborhood. Its inspiring past assures its future.

Each CultureMap explores a specific New York City neighborhood, focusing on the people and places that have made that neighborhood famous. The front side of each publication features a beautifully illustrated pictorial map done by a well-known artist. The backsides provide the itinerary for a neighborhood walking tour that has been carefully researched by a team of educators. CultureMaps are designed for scholars, tourists, locals, students and others interested in history and culture. The maps are available in both a folded format and as unfolded posters suitable for framing.


Description from Publisher


With Their Eyes:
September 11Th-The View from a High School at Ground Zero

By Annie Thoms
Tuesday, September 11, seemed like any other day at Stuyvesant High School, only a few blocks away from the World Trade Center. The semester was just beginning, and the students, faculty, and staff were ready to start a new year.

Within a few hours that Tuesday morning, they would experience an event that transformed all their lives completely.

Here, in their own words, are the firsthand stories of a day none of us will ever forget.


Description from Publisher


The 1993 World Trade Center Bombing

By Charles J. Shields
New entry in the Great Disasters series ... The terrorist attacks of September 11, 2001, will surely generate interest in Shields' book, which gives a full accounting of the tangled web of events surrounding the 1993 Twin Towers bombing--from the planning and execution to the investigation, arrests, and trials that followed. It, too, is illustrated with black-and-white photos, occasionally of poor quality. A three-page epilogue describing the events of September 11 adds to the book's value. Both series entries include a chronology and a bibliography.


Description from Booklist

Muslim extremists bombed the World Trade Center in 1993, killing 6 people and injuring over 1,000 others. Examine these events in a new light in respect to the terrorist attacks of September 11, 2001. Included in this text is an epilogue recounting the events of September 11.


Description from Publisher


The World Trade Center Bombing: Terror in the Towers

By Victoria Sherrow
Details the events surrounding the 1993 bombing of the World Trade Center as well as the investigation and trial of those responsible for the terrorist attack.

Victoria Sherrow recounts the real life stories of those who experienced the 1993 bombing of a historic New York landmark. Action-oriented accounts of survivors put the reader in the center of this disaster.


Description from Publisher

Window Washer: At Work Above the Clouds (Risky Business)

By Keith Elliot Greenberg
Meet Roko Camaj at the top of New York's tallest buildings, the World Trade Center. He'll take you into his special steel mesh basket more than 110 stories in the air. He'll give you a ride down the outside of one of the towers and will explain exactly how he does his job. You'll get to watch him work as you take in the incredible view from more than 1,400 feet above the city!

Many people in our world face the unique demands of special careers. Some work at jobs that protect us and our families from danger. Others have learned skills needed to provide a special service or perform in a special way. The Risky Business series gives you an up-close-and-personal profile of people who do things most of us would never dream of doing. As you read about them, you'll find out what worries them and what excites them about their jobs. You'll also learn how each person trained to become an expert in his or her field.


Description from Publisher